15 years in one company – story of Dana Waschk, International HR Manager at CCC
21 November 2019
Barbora Košecová
Proud winner of an award for the Best HR in EMEA!
Dana's story at CCC has started in quite an ordinary way – as a student, she was looking for a part-time job, got a positive reference from a friend, who has worked at CCC and applied for a job. So far, pretty common, right? But how did it happen that 15 years later, she is still in the same company and as a part of the management?
It's always better to have the firsthand information, so we have asked directly Dana to tell us more about herself and her remarkable journey at CCC 🙂
Hi Dana, thanks so much for finding time for this interview! We know that you're really passionate about your work and obviously found the right job for you. But how did you imagine your future in the past? And what profession did your parents imagine for you?
I don't think my parents had any special idea about that. And even if they did, it wouldn't be relevant latest since 1989, because our life reality has completely changed with the fall of the Berlin Wall.
As a speaker in London
Before I started at CCC, I have studied business administration with main focus on controlling, corporate planning and personnel management. I have chosen these subjects very consciously – so the direction was already clear to me. I have also jobbed in a call center meanwhile, so it seemed logical to me to apply at the call center again after moving to Berlin.
So it was obviously clear to you that it's going to be a call center. But how did you actually come across CCC?
A friend of mine worked there, was totally excited and recommended me to apply. I did and started in customer service for a pay TV provider. Just a temporary job, I have thought …
What was your first impression of CCC?
Great! The office was (and still is) in the Spreespeicher – a great building with history right on the river Spree. Upon entering the office, I was greeted by a smiling employee and the interview was also extremely nice, open and informative. I was really thrilled from the first moment.
Sounds good! And obviously, you also made a good impression because a job offer followed – Were there also other reasons why you've decided to accept the offer?
The flexibility in this job fitted perfectly into my life and I also already had experience and knew that I love the conversation with clients. Plus the open office, nice and satisfied staff – all this has convinced me.
And is there anything that distinguishes CCC in your eyes from other companies?
Here, "open space" is really "open". Nobody has their own office, we all work together. Plus I believe there are few other companies in which you can – regardless of the previous career – develop in such way.
Well, you personally are a good example to confirm this claim. So how did your career path at CCC look like?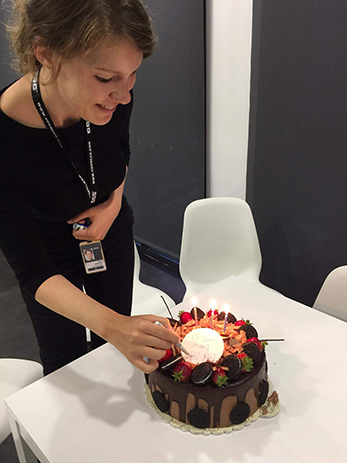 Anniversary cake from colleagues; with a binding commitment for another
15 years at CCC – and Dana has confirmed it!
Shortly after I started, the project in which I worked has expanded. In addition to the telephony, we also took over the written correspondence and I was one of the first ones to do it. I got quickly promoted to the position of quality support and later on, I've become a trainer. I have trained many colleagues and after a while, became responsible also for the leadership of the team.
In the meantime, I have finished my studies and wanted to work in the domain I've studied. I've shared this wish with the call center manager and he has offered me an internship in the HR department. I gladly accepted that, learned a lot and took over the topic of HR in Berlin consequently. In 2008, I was asked if I wanted to take over responsibility for the HR team internationally, and I did.
Wow, that's an impressive development! But many people might wonder what the tasks of an international HR manager actually are? How does your working day look like?
This is actually a difficult question to answer because every day looks different. Roughly: first and foremost, I am in exchange with my team about our goals and challenges. I also spend a lot of time outside of Berlin – 11 countries, 22 locations… this job is connected with a lot of travelling 🙂
I'm also approachable for other departments, potential or existing partners and the top management. I ensure keeping up to the standards, ensure the development of the HR team and keep our CEO up-to-date on HR topics.
Well, your working life is definitely not boring … and what do you enjoy most about your job?
I love working with my great colleagues. My team is made up of great and insanely creative people who are constantly in action and never settle for the status quo. That impresses me every day anew.
After so many nice things you've said, it's evident that you really like your job – But still, 15 years in one company – it's quite unusual nowadays! What keeps you in CCC for so long?
The constant development, dynamics, great people and the atmosphere – CCC actually offers everything that is important to me in a job. I really go to work enthusiastically every day.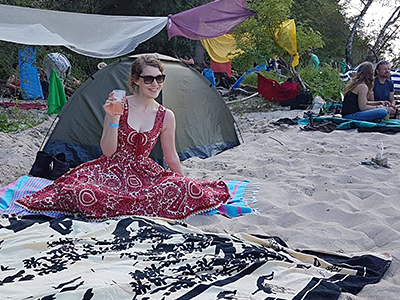 Dana enjoying a festival on the beach
That's really nice to hear! But life is not only about work – would you share with us how do you spend your free time and what do you do to switch off?
I love music and need it in my life – to cheer me up, motivate me or to relax. I love festivals, like to go to concerts and like to travel with our camper. To travel to the unknown with it is pure freedom for me – of course always with loud music on 🙂 (and here is a "good mood songs" playlist that Dana has put together for you).
Dana, thank you so much for sharing your story with us! Congratulations to your 15th anniversary and we hope for many more years, when you'll continue doing such a great job at CCC!>