What do our new colleagues from CCC Brasov say about their job?
Our new project with M7 / UPC Direct in CCC Brasov has successfully started few weeks ago and we were wondering, how do our new team members feel at CCC so far. Well, is there a better way to find out than to ask them? We're very pleased to see that the atmosphere is obviously good and a great team has already been formed 🙂
Zsolt, customer service agent:
"We have got a positive and pleasant atmosphere here. Everyone is very helpful and I have a very good experience also with answering the calls from our customers. With such a nice group of people, speaking the same language and with team spirit, I believe we will achieve success and have great future."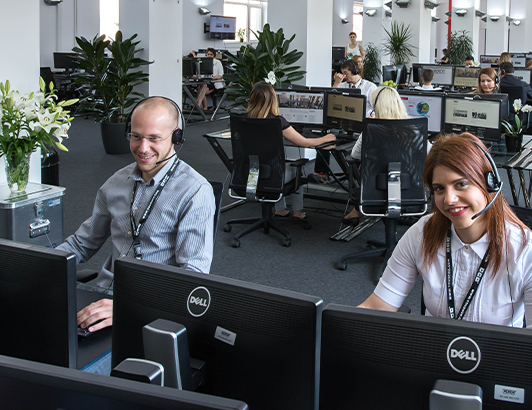 Éva, customer service agent:
"I feel very good, we have a nice team and very warm-hearted people. I come to work every day with pleasure, because of the friendly and intimate atmosphere at work."
The work can be demanding, of course, but also really rewarding.
Malvina, customer service agent:
"Our team is great and of course, depending on the calls we receive, sometimes we have more difficult days but other times very rewarding ones as well. It takes a little time to adjust and learn, but we have a great a working environment which helps with it."
We're also proud at our support team, which is apparently doing great job!
Enikő, customer service agent:
"I have met an amazing group of people here. The work can feel heavy at times, but the hard work is worth it and there are opportunities for us to develop further. I think we have a compassionate and helpful steering team, which is always ready to support us whenever we need it. "
Tímea, customer service agent:
"Firstly, I would like to mention that we have got a good team. I like that we receive help all the time, and the supporting people have patience to answer all our questions. Without this, we probably wouldn't be able to progress."

Also the words of the Team Support Ibolya prove it:
"It makes me very happy that I can help the team with its work and we can achieve success together. I have the impression that I have found not only a new workplace, but also friends here at CCC."
And last but not least – the words of the enthusiastic leader of this project, Boglárka, who knows very well, that people are what matters the most:
"I have started working here with a lot of enthusiasm. My experience so far is very positive, I think the strength of this project is its people and the dedication they have to prove and to achieve acknowledgement and satisfaction from our customers."
Thank you for your kind words, dear colleagues, we are really thankful to have such an amazing team on start!
Would you also like to become a part of our team? Find out more about our current job offers here: https://www.yourccc.com/en/careerlocations/brasov/.